Frequently asked questions
Maintenance costs
Is it wet?
Where to moor?
Installations

Where to buy, insurance

Registration, licenses

Fitting out your barge




Since the 1970's,
several factors such as the shipping crisis, increasing house prices,
as well as a taste for freedom,
have inspired many land dwellers
to buy a commercial riverbarge in order to transform it into a floating home
The riverbarge combines
the advantages

of spacious and floating accommodation For many people she represents a dream but there are also constraints..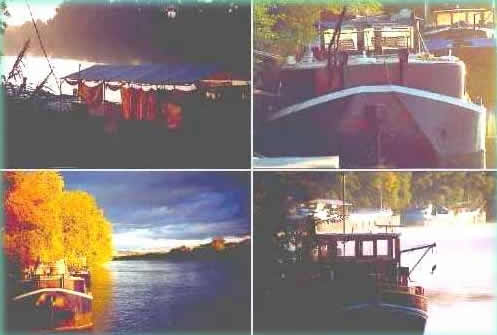 The majority of river dwellers have modified their boats themselves
Today the ship yards
control the costs of fitting out your barge
Material and maintenance for a barge is often twice the price of that of a house of the same size
In 2018, there are an estimated 1600 floating homes on French rivers, canals and waterways, from Strasbourg to Paris, from Belgium to Switzerland, from Lyon to Midi canal

In case of legal issues concerning a floating home, there are several local associations that will take your case.
The majority of such cases though go to l'ADHF (association de défense de l'habitat fluvial)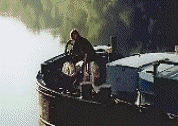 Everything you've ever wanted to know
About living on a riverbarge,
a floating home in France..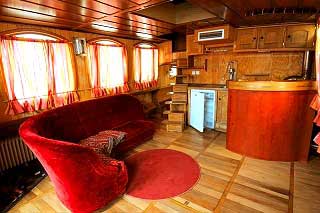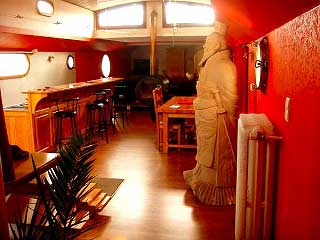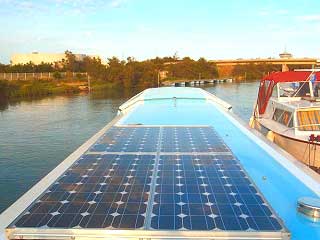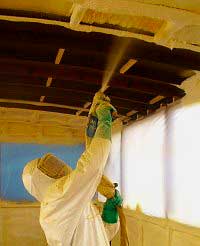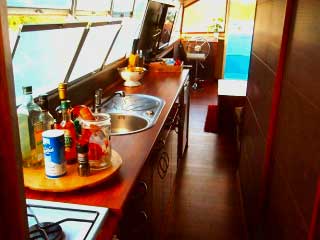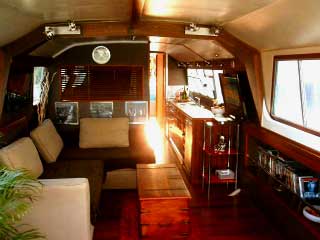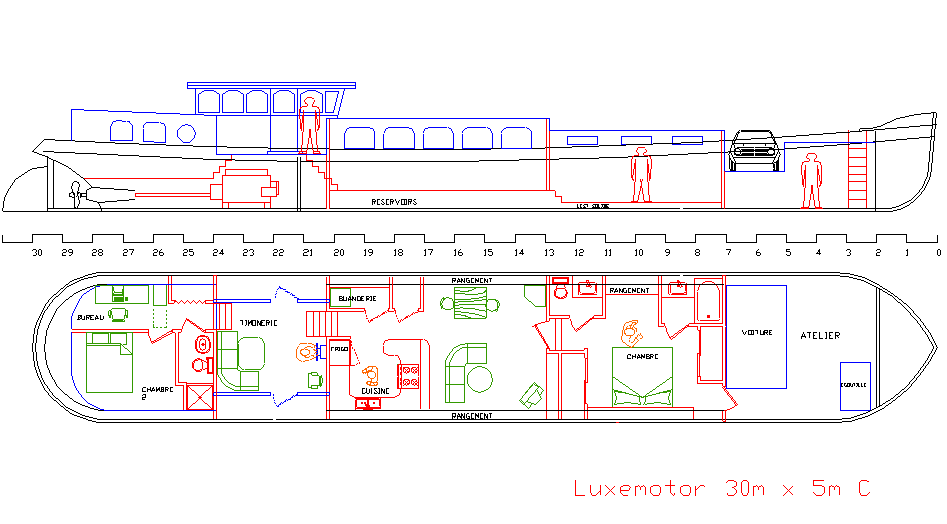 Mooring, long term docking on French canals and rivers, fees
In principal, you have the right to moor anywhere, unless there are restrictions in place (the restriction would have to be justified), but local authorities are rarely cooperative in these cases and this topic is the stage of many conflicts.

Up until 1985 one could move around freely and moor almost anywhere there was a bollard, since mooring to trees is (obviously) prohibited.

These days, however, the leading authorities on public waterways have decided on strict regulations and enjoy a monopoly on docking fees, with rates that they keep increasing. Docking anywhere for more than 3 days is now prohibited, unless a temporary occupancy permit has been obtained from the public sector.

Furthermore, they want to limit the docking spaces, refuse to create any new ones, and to refuse also any docking considered 'wild' docking. And do they have the right to? Jurisprudence on these types of cases is limited since debates rarely finish up in tribunal. When such is the case, one will often find that the occupier is evicted unless he can provide proof that he has the right to dock.

There are two opposing and complementary views on long term docking in France: Denial of regulations generally sanctioned by "procès verbaux de grande voirie" (official reports on waterway systems) from administrative tribunals and judges regulating boating. Invariably after a certain delay and under threats of seizure if the occupied space is not liberated, a moving procedure ensues, after which the debate is reopened elsewhere. Some disbelievers choosing not to move have had to witness their barge be set off down the river only to be ripped apart. When the bailiffs deliver their warrant it's already too late.

2. The acceptance of a temporary occupancy permit from the public sector, precariously issued by administrators or whichever company that manages the coveted river banks. This permit is a contract comprising many an obligation and hardly any rights for the barge dweller. This contract contains, amongst other things, a clause that states that it may be terminated at any stage, without justification, indemnity, or even any reimbursement of fees that may have been paid in advance. Any honest lawyer will tell you that these "contracts" are illusionary, however, they are necessary in order for you to occupy a part of the public domain.
All sorts of people choose to live on barges (labourers, carpenters, managers, unemployed, architects, teachers, journalists, pensioners, artists, etc...) they lead conventional lives, often with children in school, and appreciate a certain level of stability.

Docking contract rates from the public sector (VNF, CNR, port autonome, chambre de commerce, private pier ) have tended to rise in the last 10 years. The prices for a Freycinet barge can vary between 700 to 5000 euros/year, and sometimes more in central Paris or other popular spots. Several associations have been created, and are locked in hard negotiations in order to bring the rates back to a reasonable level, since litigations are common. Also, we find that the rates are sometimes unjustified, or very complex, or "nonsensical". You may well be charged the double to your neighbour who lives in a similar boat to yours.

Furthermore, it isn't easy to obtain a cocking contract, they are sparsely issued and there are numerous boats involuntarily having to bend the rules due to random management.

Legal expertise



Many regulations have to be taken into account for living on the waterways; inland navigation, docking, waterway transportation, inland waterway tolls, royalties, infringements of waterway systems, obligations, waterway police, and, to make matters even more complicated, these regulations remain in constant evolution and more often than not require the intervention of a administrative tribunal in case of dispute. Should your case go to court there is help to be found from 'l'association de défense de l'habitat fluvial' (Adhf) (legal support specialising in floating homes cases), and it could also be useful to get advice from a lawyer specialising in waterway regulation.


Taxes



The tax man should not be calling for any land taxes as long as the boat is sea worthy (tax coded). La taxe d'habitation (dwelling tax) is sometimes claimed back in compensation for council services (schools, bins...), however, administrative services are not in agreement with this arrangement.
Remaining taxes do not differ from those of land dwellers.

Humidity



The interior of a well insulated barge is generally not humid, unless it's time to visit a ship yard to arrange for cabin repairs.
A barge will rarely start leaking without first giving you some notice; small leaks in the hull will have been forming for years before they appear. There are temporary repairs and other solutions for such leaks. It happens that leaking boats are abandoned by their owners and become dangerous for the public, this is a problem for the waterway services who do not always have the means to remove them.

Les raccordements
Post and telephone is generally not a problem in France. If you are anywhere near civilisation (with an access road) and you request it, post will be delivered and telephone lines provided. If necessary the telegraph poles will be put in for you.

When it comes to electricity there's a different story altogether. Often there will be a straight out refusal, especially if you have not been able to obtain your temporary docking permit. After months, or sometimes years, of negotiations, French EDF might agree to install a meter at a certain place and from there it's up to you to draw your own lines to your barge, whether or not it is docked in the vicinity is irrelevant
Some people use fuel driven generators, these are practical whilst on the move, but prove to be expensive and somewhat annoying in the long run, especially if you are docked long term next to an electricity supply to which you have been refused access.

These days solar power offers an alternative, being energy self sufficient is a plus but one has to be frugal in consumption since it is big investmen. The cost (without installation) is 600 euros minimum for 100 watts and at least 5000 watts are required. You must also take into account that this power is only available between 11am and 3pm when the sun is shining at a vertical angle, well, in June and July at least, and that a cloud will decrease efficiency by 80%.
The output is less in the winter, even in the south, with the sun remaining low, and in the summer any docking in the shade is to be avoided.
A 500 watt wind mill can be used as a supplement, but it is unlikely that you can remain self sufficient between the months of November and February.
A set of stationary slow discharge batteries is also required, 1000 amperes for a 30-38m barge, and these can provide an energy reserve for a week.
Some 'départements' (administrative sector) in France will subsidise the installation of solar panels.

Surprisingly, water is the most problematic amenity to arrange in France. The public distribution network will most probably ignore your requests, big reservoirs are needed, and finances are restrictive. The water from the river can be filtered and treated, but on the canal this is more complicated to do. In certain regions it is possible to drill for water but this may be delicate situation with a temporary occupancy permit, which can be revoked at any time.
Your waste water must be disposed of in retention tanks or at a purifying station; it's about living with respect for both the environment and the law.

Licenses and registration



Pleasure vessels are subject to technical regulations and security measures. They have to be registred, and be issued a navigation title from 'le service instructeur territorialement compétent '(the qualified instructor service of the area).
Navigation licence (for the boat) will be granted once the taxes have been paid, and a visit to the shipyard has been made; the boat needs a complete check over, amongst other things the bottom of the boat must be at least 3.9 mm thick. But that's not all, there are other things to take into account, also a complete survey by an expert is obligatory every ten years.
(Experts list)
The captain's license will be granted once the taxes have been paid, and the theory test about navigation code, as well as the practical test to operate a boat of 20m or more, (easier said than done), have been passed. Courses are available in boating schools. Training with local mariners is very helpful.
This license will allow you to navigate and take some lovely cruises in the regions of France, on rivers and canals such as the Rhône, the Saône, the Seine, the Meuse, the Marne, the Lot, the Canal du Midi, in Bourgogne, Anjou, Provence, Alsace, the North, Picardie, Vosges, the Centre, etc.. You must make sure that the inland waterway gages allow your river boat to get through.
While you're waiting, you could always get some practice in, play the tourist, by renting a river boat without a license! Yes, that's right, if you rent the boat you don't need to be licensed.

More about licenses and registration



Maintenance costs



Maintaining a barge has its price: first of all she needs to be repainted every three years so she doesn't look haggered and to prevent rust.

Dry docking in a ship yard is recommended every four or five years, although regulations state it needs doing only every ten years.

Cost in France :
Dry docks : 1700 à 7000euros
Carénage : 800 à 1500euros
Rivets : 400 euros
Painting : 500 euros

In Belgium : Dry docks, carénage, cleaning and paint : 1500 euros

If the wait is ten years the following amounts must be added;

A new complete survey: 1200 euros
Obligatory repairs: 8000-25 000 euros minimum
Between five and ten years - the paint or protection layer completely worn off after the fourth or fifth year, rust is well established and feast your eyes on the damages when you take her out of the water. An observation made from experience on numerous boats over the last 25 years.
made from experience on numerous boats over the last 25 years
Insurance
I


t is important to insure your barge against fire and damages, also, make sure you put money aside for reinflation if she goes below water level.
Several companies share the market when it comes to insuring barges. A comparative study ahead... There is insurance with or without navigation. The cost is varied and negotiable.
For a 38m Freycinet river barge with navigation: around 1000 euros per year.

More about insurance





Where to buy, what to look for, selling prices?



Boats, barges, spits, clippers etc. can be found, for sale, in the ship yards and the ports of France, Belgium, and Holland. There are adds in the magazine 'Fluvial' and online. Buy fitted or unfitted, it's up to you. The key is to bring someone who has been living off land for a few years. You enter a whole new world. Some professional vendors charge considerable rates, it is perhaps preferable to buy straight from the seller with the advice of someone knowledgeable - even if you compensate him for his help this should still take about 10-20% off the asking price.

Double check first of all the general state of the boat, the new lick of paint could possibly be camouflaging a rusty hull, but, is usually a sign of good maintenance in general. Top priority are the seals on the parts submerged in water : the state of the rivets and weldings, the floor timbers (structural beams) have to be straight, you have to get down on your knees on the floor, lift a plank and get into the corners. When it comes to the engine: a clean machine hall is encouraging..check the state of the drive shaft between the motor and the propeller, check the press packings, the rudder, the propeller, batteries, electrics...

If the boat seems healthy, the next step would be dry docking at the shipyard for the infamous "survey", that is having the thickness of the sheets measured by an expert, and his ultra sound machine: 5mm average is the minimum, but it all depends on the original thickness, if it were 7mm to begin with then 5mm is OK, but were it for example 12mm to begin with then 5mm is not a good sign.
On a 39m barge the sheets need to be minimum 3.9mm all through out the bottom of the boat. The many rivets need to be checked carefully, the weldings need to be reinforced as much as possible, because if one of them go, a large part of water will be coming in. This is what we call "damage".

On a fitted barge there will be more things to check; electrics, water, heating, insulation, etc..., but all depends on the asking price...

The paper work must be in order: the boat has to be listed with the boat registration authorities, who are also the people who issue the new ownership certificate once sold.
A barge is an asset which can be sold on a simple invoice, from person to person (without notary, fees or taxes). There is no particular model for the invoice, it should be descriptive of the characteristics of the boat (registration, any particularities, building yard and year it was built).
Selling prices vary: from 25 000 to 150 000 euros for a Freycinet without fitings, and 50 000 to 1 000 000 euros for a boat already fitted out. It all depends on the state of the boat, but also on the location it is moored at.
Once the sale has gone through, you can register the transaction with the '
Trésor public'
(the treasury), the local navigation authorities as well as the registration services.

Fitting out your barge ?



Use good quality materials, set out a building plan, proceed in stages; these are the basics of any conversion. There are books to read and it is also very useful to visit other barges and chatting with other inhabitants of the water ways.
Most important in order to one day live on the boat of your dreams, and in order not to loose your mind, is to not rush the project and to respect the boat and its structure.
Personally, my advice would be to begin the conversion by the toilets, it's the most comfortable place to start considering the work will take around a year and a half. Dry toilets are possible on a barge, and it is also possible to use the compost for a 100m2 garden, with an automatic watering system using photovoltaic power, put an epoxy protective coating on the sheets first.
Your barge needs 30 to 80 tonnes of ballast in the hull, to keep her stable and the propeller submerged. There are different methods such as gravel or block. In the past you would have greased the bottom of the boat with 200 litres of thick grade oil.
Avoid contact between the ballast and the bottom sheets by keeping the original floor in place, and take into account that you may need to intervene in case there are any damages. Place 2/3rds of the ballast in the back of the boat. Concrete ballast can be a good solution, if by advice of an expert, but it is generally not enough to really submerge the propeller.
The best thing to do is to contact the competent specialist in the area. A list of such persons is available from the VNF, and a list of regional VNF offices can be found on :
https://www.pnich.com/sernavi.html
.
It is now time to lay the floor of your lodgings over the ballast in place, this is when you realise that the height of the flat edges have diminished and that you should perhaps re-fix the hatches in the back of the boat...Also, the height is not the same everywhere since, although the bottom floor is flat, the barge itself is not, it is lower in the middle and much higher at stern and bow...
The positioning of the chevrons is the base of the structure, they need holes for fixation at the angles. Don't worry too much about your construction staying supple; there is always movement in a steel structure. Openings for the windows, don't hesitate making big ones and reinforcing them at the angles, it's not as pretty from the outside but it's much brighter on the inside. 60cm minimum above water level for the openings and why not natural lighting from a sky light, a solution which allows for a lot of extra light if it is well built.
Fit the plumbing, the pumps and their valves, standard electricity... The easiest is to install 230 volt all through the living area, using a 5000 watt converter and a set of 24 volt batteries with 1000 ampere discharge, all this being powered by a charger that can be disconnected automatically. When on the move, a generator would also come in handy. You can also install solar panels for hot water...

And finally insulation, thermal comfort..
Leave a ventilating space between the sheets and the insulation, make air holes and fix the insulation semi rigid to the fixed angle chevrons.
15cm of semi-rigid rockwool is enough, to protect from the cold as well as the heat, because a steel barge draws the sun's heat very well in the summer.
Whatever the materials used, (bio composites from natural fibres, or perhaps a cellulose membrane) they should preferably be water resistant (you never know...), and you then have to place another waterproof skin, a protective film, across the whole surface of thermal insulation to prevent condensation.
Use wood to deck out your walls (red pine from the north..?) the planks should be 3cm thick all round. Then decorate!
The central heating can be installed by placing the pipes under the floor and the heater in the machine hall, but personally, i enjoy a wood burning fire. If you use a fan driven bellows to maximise heat output, a wood burning fire is very efficient to heat your barge.
Basic products: a good anti rust product, i know of only one: Rustol, and then for the joints, some cartons of Sika marine. Silicone is good for glass but not for iron... It is possible to put ceramic tiles on the walls using an adapted adhesive that stays supple when dry, seal the joints with waterproof mastic.

Incredibly frustrating would be having to take down something you have built because you have forgotten some other important bit that needs to go in first.
Avoid your dream becoming a nightmare; don't spread illusion.